Reliable Company
Since 21.07.2010 Soter Ltd. has been continuously participating in the Reliable Company programme which provides a range of information to demonstrate our credibility.At the request of our customers we share the information about the company's register, data on the company's decision-makers along with obtained achievements and certificates.
ISO in Soter Sp. z o.o.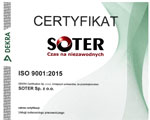 The confirmation of the provision of services at a level that meets the expectations of our clients is the obtaining of a recertification after the audit on 08/06/2018, thanks to which Soter Sp. z o. o. obtained the certificate until June 8, 2021.